Teams & Producers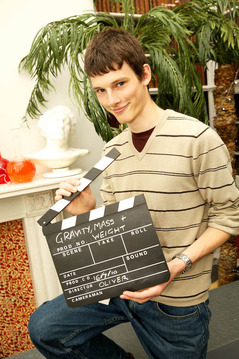 There's nothing stopping you making a SciCast film on your own, as 2010 Best Film winner Oliver Madgwick did with his terrific film "Gravity, Mass and Weight".
But to be honest, it's too much like hard work for most of us. If you're slaving over a stop-motion animation like Oliver, or maybe if you're the creative loner type, then go right ahead. Most SciCast films, however, are made by small teams.
How many in a team?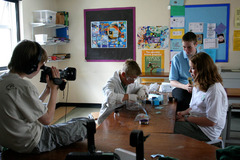 We've found teams of four or five are about right. Larger teams need to allocate jobs and coordinate who does what, but in a small team you'll solve all that stuff without really thinking about it.
Sometimes teams might rope in other people as performers or extras, and of course it's fine to involve the whole class or even school if you want to. But if in doubt, keep it small and simple.
Producers
Behind a team, there's usually somebody responsible, helping them out: pulling equipment together, arranging times for filming, making sure everyone's safe, standing back and offering a few comments and words of guidance. Following the terminology of film-making, we call these people 'Producers.'
Producers are usually teachers in a school, or a youth group leader, or a parent. But, in some cases, they'll be one of the team members, taking a bit of a leadership role while still getting their hands dirty.
How you organise yourselves is up to you. Film School — what you're reading now — is intended mostly for the person doing the organising, the producer, but the rest of the team will likely find useful snippets too.
A word to teachers, youth group leaders, and similar
As the producer, your job is to manage and facilitate: let the team worry about the details of the film itself. If you can provide the opportunity and the means, groups of children or young people will bring the inspiration and technical savvy to get the job done.
The producer's job is to notice, suggest, and coach. Stand back, and try to think like the audience, watching the film for the first time. What do you notice? What might need changing?
The producer's job may be the responsible one, but it's also the easy one.