Submit your entry
Ready to send us your film?
Great!
There's a link below which will take you to our submission system. So you can make sure you're ready, here's how the process goes:
First, you'll have to tell us a little about yourself, so our system can find you again and we have your contact details so we can tell you if you've been nominated for any of the awards.
Once that's done, we'll ask you to tell us about the film you're submitting, and the team who made it. You can submit as many films as you like, from as many teams as you like — so what usually happens is a teacher in a school takes responsibility for entering all of that school's films. It doesn't take too long.
You can upload your film to us, or drop it on a DVD and post it. The submission system will give you the address once you've told it about your film.
Paperwork
At the end of the process there's a bit of paperwork that you'll need to print out, complete, and post to us. One form is for telling us that the film is all your team's work. Or, if it isn't, where they found the music they used, or the still photos, or whatever. Tell us as much as you can, and we'll do our best to help sort any queries or problems.
The second form is to assure us that everyone who appears in the film has agreed to their performance being published. For schools, that means consent from parents/guardians, though in many cases schools already have blanket agreements for media appearances. Do check, as they'd probably cover you for SciCast and it saves a lot of faffing about with bits of paper.
We're sorry it sounds so involved, but it really doesn't take as long as you might fear!
Ready to go? Click this:
---
---
Exporting films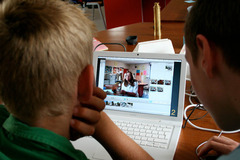 We'd like your films to look as gorgeous as possible, so please export them at the highest-quality you can manage. There are so many different combinations of camera and software that it's extremely difficult to give specific advice, and over the years we've been sent just about every format imaginable. So you don't need to worry too much.
In general, we'd echo the advice offered by video-sharing site Vimeo here:
H.264 video, AAC audio
Whatever frame-rate you recorded at. Most likely 25 frames/sec, but sometimes 30.
640x480 resolution at 2000kbit/sec for standard-definition
1280x720 at 5000kbit/sec for high-definition
Turn deinterlacing on, if you can.
Audio 320 kbps, 44kHz (though 192 or even 128 kbps sounds pretty good)
.mp4 format, though we're equally happy with .mov or anything else.
Vimeo also have more detailed advice here, covering exporting HD films from a range of software.
One very useful and high-quality tool for compressing video is the free Handbrake software, available here.
Properly-compressed files are usually small enough to upload reasonably comfortably, even for HD films. On the other hand, if your file is tiny and uploads in a couple of seconds, chances are you've just sent us a Windows Movie Maker project file, which doesn't contain any video itself. You'll need to export your film first!
Posting films
In 2010, about 5% of the DVDs we were posted got mangled before they reached us. The jewel cases that CDs come in almost never survive the journey — at the very least, sandwich them between stout cardboard and put them in a padded bag. Thanks!