January 2011 Archives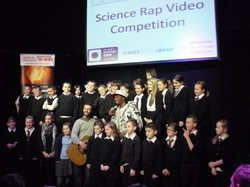 We're very excited to welcome a new regional science video competition to our ever-growing SciCast family! Hands on Science have started their Science Rap Video Competition for young people between ages 7-16 from the South East of Wales, and we were at their fantastic launch event.
Laura Roberts, the Hands on Science coordinator, had prepared a morning filled with inspiration and fun. Previous SciCast videos were played, and two amazing and talented artists — science rapper Jon Chase and science singer Jonny Berliner — performed live.
The competition, funded by the National HE STEM Programme with sponsorship from the Science Photo Library, challenges 7-16 year-olds from South East Wales to write a rap or song about Physics. Then: record a 2½ minute video of it. Entries can also be submitted to the national SciCast competition.
We're delighted to welcome Laura and her team at Hands on Science to the SciCast family. And hey, we're still singing the Geiger-Müller Groove.
Good luck to everyone who enters!
We've been keeping an eye on the January sales, and so far the best deals we've seen are:
Of the two, we prefer the Zi8 — it has a wider-angle lens, a close-up mode, and a microphone jack. However, the Flip Mino is dinkier, which has to count for something. Oooh, but then the Zi8 comes in different colours… only, you have to spend another £15 on an SDHC card for it… decisions, decision.
Actually, the camera of this type that we really want to try out is the new Zoom Q3HD — perhaps not quite as good a camera, but the microphones are likely to be stunningly fabulous. Prices from about £200.